Insist on HellermannTyton Insulok Cable Ties
Date: 08/07/2021


Insist on HellermannTyton Insulok Cable Ties
HellermannTyton is synonymous with quality. Our HellermannTyton Insulok Cable Ties are made locally to the highest international standards. We only use top-grade, 100% virgin nylon in the production of our HellermannTyton Insulok Cable Ties, which is fully recyclable. This is done in our IATF 16949 accredited factory in Johannesburg, which ensures all our products are produced under the most stringent quality control processes to comply with all industry norms and standards.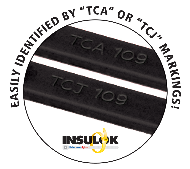 It has recently come to our attention that some competitors are using our product codes and descriptions on their cable tie packaging. These copies are not HellermannTyton Insulok Cable Ties and are not necessarily made to the same quality standards as our cable ties. If it does not say HellermannTyton Insulok T18R, T30R, T50R, T50I, T50L, T120R, T120S or LK5 on the packaging, then it is not our high quality cable ties and we cannot accept any liability for these copies. If not in the packaging, our HellermannTyton Insulok Cable Ties can be easily identified by our "TCA" or "TCJ" marking behind the cable tie head.
The HellermannTyton Insulok Cable Tie brand is trusted globally with more than 80 years of proven reliability. Insist on HellermannTyton Insulok Cable Ties and do not get caught out by copies offered in the market.
Our knowledgeable sales team is always available to assist you