Cable Ties and Fixings for all your Applications!
HellermannTyton Cable Ties Locally Manufactured and Distributed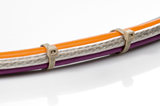 Cable ties have to be able to meet the most varied demands these days as they are used in the widest range of operations – from the simple bundling of cables with cable ties to the absolutely specific use of cable ties under extreme conditions. As one of the leading manufacturers of cable ties, HellermannTyton sets the standards in the production of inside and outside serrated cable ties, releasable cable ties and cable ties without serration. The range is completed with cable ties for direct fixing, cable ties made of stainless steel and also cable ties with fixing elements (also known as fixing ties).

With its high-quality cable ties, HellermannTyton provides system solutions which can meet practically any challenge. They do not just fulfil the most up to date requirements for cable ties and cable tie systems, but HellermannTyton constantly pushes back the boundaries of what is technologically possible with its fixing elements. In these ways, new cable tie solutions or new fixing elements are developed jointly with customers which can also stand up to the most extreme and exceptional environmental influences.
HellermannTyton Cable Ties are manufactured from ultra-strong nylon, with smooth surfaces that won't damage your work piece, while looking neat and professional. We offer a wide range of permanent and releasable cable ties in a variety of sizes and colours.

Cable ties from HellermannTyton meet the highest standards of quality and are at the forefront in terms of material stability. A wide variety of selections of colour and size of cable ties allows customers to find just the right cable tie for every particular use.

The latest example of innovative cable tie system solutions from the HellermannTyton company is the unique Q-series cable tie system with open head design, which is ideally suited for the blind assembly of cable ties.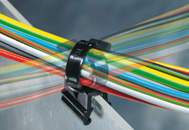 Furthermore, stainless steel cable ties with metal ball locks provide extreme tensile strength. The variety of cable ties is supplemented by detectable cable ties with metal components for the food industry or dual fastener cable ties for the parallel guiding of cables and leads in the automotive industry. Especially soft cable ties with hook and loop fasteners protect the bundle. Cable ties for heavy duty applications, twistable cable ties which can be rotated through 360 degrees, cable ties with glass fibre reinforced pin and all those fixing elements which users need worldwide in the most varied sectors complete the cable tie range.

Quality and safety are always put at first place when thinking about cable ties from HellermannTyton. Whether inside or outside serrated cable ties, whether required to cope with a temperature of -40 °C or up to +240 °C, whether cable ties for fixing bundles better protecting against vibrations, made of stainless steel or as plastic cable ties – all meet the highest international test standards, which are defined and monitored by international certifying bodies for cable ties .
With such excellent quality assurance behind them, cable ties from HellermannTyton keep their promises more than others – and in every situation.
Cable Ties Tailored to your Applications!

A cable tie, also known as a zip tie or tie-wrap, is a type of fastener, especially for binding several electronic cables or wires together and to organize cables and wires.

Cable ties are used in many industries: in the electrical installation, in harness making, in the construction industry, for preliminary installation purposes, in the packaging industry or under extreme environmental conditions like in the offshore industry.

HellermannTyton is a global manufacturer who offers high performance fastening, connecting, routing, protecting and identifying solutions to diverse markets. For our customers we develop market solutions that uniquely meet an industry's needs - solving an application requirement, saving installation and component costs, and improving the quality of the end product - no matter what your industry.
Cable Ties Inside Serrated
Plastic cable ties are suitable for bundling and fixing of cables, lines and hoses. The cable ties are available in different remarks, materials, lengths and colours.
Cable Ties Outside Serrated
Outside serrated cable ties are particularly suitable for bundling and fixing of sensitive bundle property. These cable ties are available in different remarks, materials, lengths and colours.
Releasable Cable Ties
Releasable cable ties can be processed and offered very simply. These cable ties are an optimal solution for temporary fixings. Releasable cable ties are available in different remarks, materials, lengths and colours.
Cable Ties without Serration
The robust cable ties without serration of the KR- and EL-TY-Series offer a high retaining strength and are suitable for cables and lines with large diameters.
Cable Ties for Direct Fixation
Cable ties for direct fixing are characterised by simple handling to bundling and fixing of cables and lines in a processing step.
Stainless Steel Cable Ties
Stainless steel cable ties can be used in the most arduous of conditions or where additional strength, security and fire resistance is required.
Cable Ties with Fixing Elements
Optimal fixing solutions for each cause offer the cable ties with fixing elements in different remarks, materials, lengths and colours.
Cable Tie Mounts
Cable Tie Mounts are available in either screw or self adhesive mounting. Different sizes and designs of cable tie mounts offer a secure fixing with a wide variety of cable ties.
Fixing Elements
A wide variety of fixing elements offer a direct fixation in holes of a panel or at the edges.
Clips and Clamps
A multiplicity of clips and clamps made of plastic with protection profile, including Klam Clips and Wire Push in Clips.
The New Cable Tie system Q-Series offers intelligent, innovative fixing solutions with tailor-made components, from pre-locking to long lasting identification.
The Q-tie cable tie is a unique and innovative product for bundling and fixing cables for a wide range of applications. The innovative design of the open head tie provides an easy insertion even under difficult circumstances.

The integrated pre-locking function of the Q-tie offers the ability of a temporary and also a final cable fastening solution with the same cable tie and without additional effort. This cable tie also allows a very quick and simple installation even under difficult circumstances like work gloves and a restricted view.

Cable Ties T-Series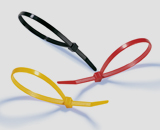 Available in a wide range of materials, these cable ties all feature inside serration allowing for a positive hold onto cable, hose and pipe bundles. The design of the head guarantees a high tensile strength whilst allowing a very low insertion force. This, combined with the bent tail design of many of the ties, ensures a simple and quick installation. The cable ties of the T-Series are used for the routing, bundling and securing of cables, pipes and hoses.
Cable Ties OS-Series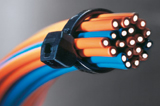 The ever increasing demands within the mass transit, automotive and data cable installation industries for tighter bundles has led to problems with the conventional inside serrated cable tie design causing damage to cable insulations, especially in vibration environments. The OS range of outside serrated cable ties have overcome these problems. The design of these cable ties offers high tensile strengths, low insertion forces and a smooth surface to the cable insulation - minimising any indentation or damage. The curved shape of the head allows the cable tie to follow the contours of the cable and takes up less space than other designs of cable ties. Designed originally for the automotive market these ties are now being used in many areas where thin-walled or soft insulation wires and cable are being installed, e.g. railways, aircraft, data cable installations and electronics.
Cable Ties SRT Releasable Ties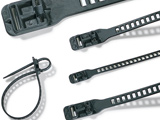 Manufactured from a soft, tear-resistant thermoplastic polyurethane these ties have several unique features: UV and weather resistant, strong yet elastic, and suitable for temperatures as low as -40 °C. The SRT ties are releasable and reusable which is ideal for bundling cables in temporary applications such as musical events, theatres and cable harnesses. The SRT cable tie range offers solutions to numerous bundling applications. The soft, flexible material makes these cable ties particularly suitable for use on data and fibre-optic cables. The elasticity of the material makes the SRT cable ties ideal for securing young trees to support poles, and other applications within the gardening and landscaping industry as well as bundling cables in temporary applications such as musical events, theatres, cable harnesses.
1-Piece Cable Tie with fixing element, with Arrowhead and Disc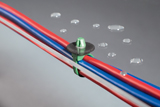 Fixing Ties bring together a solution for the need to bundle and product whilst at the same time providing a fixing solution.
1-Piece Cable Tie with fixing element, with Arrowhead and Disc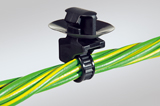 A simple one-piece bundling and fixing cable tie with an arrowhead mount. When inserted into the hole the arrowhead locks into place and the 'disc', between the fixing and the head of the cable tie, covers the hole and minimises the ingress of dust, dirt and water, whilst adjusting for variations in panel thickness thereby ensuring a secure fixing at all times. With a diverse range of fixing possibilities this range of cable ties with fixing elements is ideal for use in many different industries, for example: automotive, aerospace, white goods manufacture and panel building.
1-Piece Cable Ties with Fir Tree, with Disc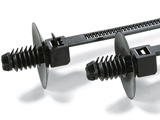 This one piece cable tie with fir tree fixing offers a simple and easy to use method of bundling and fixing cables, pipes and hoses. The design of the fir tree ensures a positive and secure fixing into panels from 0.8 mm to 7.0 mm deep or threaded blind holes.
The 'disc' on the top of the fir tree covers the hole and minimises the ingress of dust, dirt and water. Type REL are releasable and reusable and are ideal for the removal or addition of cables after the initial installation is completed.
Cable Tie and Arrowhead Mount Assemblies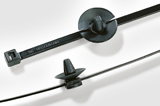 These two piece fixing ties are supplied ready assembled and offer a simple and versatile method of bundling and fixing cables, pipes and hoses. The arrowhead base will easily push into pre-punched holes in panels and offers a very secure fixing. The two piece design enables the head of the tie to be orientated to the required position to ease assembly, whilst the 'disc' on the top of the arrowhead takes up variation in panel thickness ensuring a stable fixing at all times. Available as either inside serrated or outside serrated 'standard' cable ties or 'double headed' ties. Primarily designed for fixing cable harnesses in the automotive industry, their simplicity and ease of use has resulted in these parts being used in other industries e. g. aviation, switch-gear manufacturers and white goods manufacturers.
MR Range of Mounting Head Ties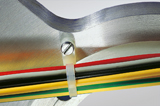 A one piece bundling and fixing tie offering quick and easy installation. This range of one piece cable ties has a mounting hole fixing method. Once fastened around the cables the bundle can be simply secured to the panel with a screw or bolt. Ideal for fixing cables, pipes and hoses onto solid surfaces with pre-drilled holes or holes in metal plates. These ties are used in many industries e. g. building construction, panel builders and white goods manufacturers.
Cable and Wire Mounts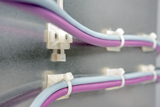 HellermannTyton offer a wide range of Cable and Wire Mounts for all industries including: Self Adhesive Cable Tie Mounts, KR Series, LKM, NY, TY Series, Rivet Mounts, Wire Push In Clips and Screw Mount, LOK Fixing Base and EasyHold Fastening Systems, Cable Fixing Accessories Tape Clip, COW series and CH Series, Cable Fixing Accessories Edge Clips, Aluminium and Plastic P-Clips, Klam-Bush as well as TriKlamps.
Cable Ties and Edge Clips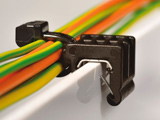 These cable ties with edge clips are ideal for use where holes are not acceptable or where due to temperature problems adhesives will fail. Once the cable tie is fastened around the cables the edge clip is presented ready for attaching to the panel. Simply pushed onto edges with thicknesses from 1.0 mm to 3.0 mm, they offer a very secure and simple fixing method. Widely used within the automotive and panel building industries these cable ties and edge clips save time and money.
Connector Clips for round holes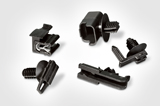 The connectors are mounted simply by pushing them onto the corresponding clip. The connector can be removed without damage, a practical and cost efficient benefit in the case of maintenance, repair work and a later recycling. The additional turnstop on some of the ConnectorClips prevents the rotation of the clip within the hole after assembly. The connector clips used here have been designed for electronic cables and cable sets used in the automotive industry.
AHC-Series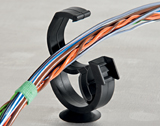 The AHC clips can be attached to the panel prior to installing the cables. Simply pushing the cable into place, closes the clip which activates the automatic locking feature. The parts prefixed with an 'I' can be interlocked giving a greater choice of installation options. Offering a simple and secure method of attaching cables to panels. Originally designed for the automotive industry they are finding a wide variety of applications in all industries using sheet metal panels.
MB-Series Square-Cut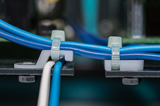 Each mount is designed to offer the maximum surface area, and in conjunction with the specially developed adhesive ensure that a very high pull-off force is achieved. The MB mounts offer '4-way' entry for the cable tie enabling quicker and more flexible installation. Where speed, simplicity, and a firm fixing base are required these self adhesive clips with either synthetic rubber or acrylate adhesive are ideal.

These cable tie mounts are particularly suitable for the use in control cabinets, telecoms equipment or domestic appliances where the use of holes, screws, or nuts and bolts is impractical or undesirable.
Special Purpose Fixings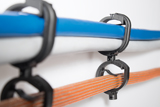 Special Purpose Fixings for the automotive, harness making, panel building and electrical industries. HellermannTyton's range of Special Purpose Fixings include TY Plastic Rivets, clamps for Convoluted Tubing, Pipe and Hose Clips, Cable Tie Base for Weld Studs and Automatic Harness Clips.
Cable Ties KR-Series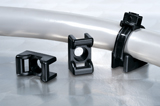 The special curved design of the head of the KR cable ties ensures a seal around the full circumference of the hose/pipe. The patented design of this cable tie offers a smooth strap which is locked into place with a glass fibre reinforced pin, and when assembled the cable tie offers a very secure and vibration resistant fixing. In addition to offering a secure method of bundling cables the design of the KR cable ties make them ideal for use as a method of securing bellows on steering racks, water hoses and vacuum lines.
Stainless Steel Cable Ties MBT-FC-Series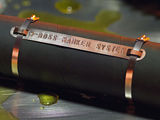 The rustproof MBT stainless steel cable ties resist acids and high temperature. The MBT (Metal Ball-bearing Ties) have a non-releasable locking mechanism that offers infinite adjustment along the length of the tie. These ties are available in both 316 and 304 grades of stainless steel.
The M range of stainless steel cable ties can be used in the most hazardous of conditions or where the additional security, strength and fire resistance of a metal fixing is required. Used in all industries from mass transit, ship building, oil rigs, mining, chemical to theatres and exhibition halls. In the event of a fire, cables will remain securely held in place and will not fall to block emergency exits. This cable tie series guarantees safety when used on data and fibre-optic cables as well as for applications in theatres or at fairs.
Cable Ties MCT-Series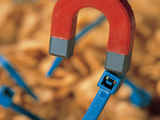 The Metal Content Tie is a cable tie specifically designed for use in the food & pharmaceutical processing industries. A unique manufacturing process, involving the inclusion of a metallic pigment, enables even small 'cut-off' sections of the cable tie to be detected by standard metal detecting equipment. The MCT cable ties have metal content dispersed throughout the head and strap of the cable tie. These cable ties can be used as part of the HACCP process. The 'unique' blue colour of the cable ties assists in the visual detection and greatly reduces the risk of contamination. The Metal Content Tie is a cable tie specifically designed for use in the food & pharmaceutical processing industries. Ideally suited for the installaton of cabling in and around the manufacturing process.
UV Stabilised Cable Ties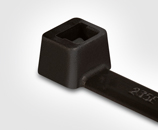 The question constantly arises as to whether a black cable tie is suitable for use outside. This is dependent on the application of the tie, but in general the following statements can be made: A black cable tie made of polyamide 6.6 standard (PA66) is only coloured black with a low proportion of carbon black. This is not sufficient to protect the material from damage caused by UV-radiation in the long term. Products made from UV-stabilised polyamide PA66W are produced in accordance with ASTM standard D6779 with a higher carbon black percentage of at least 2 percent.
Other Products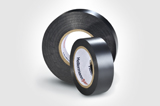 HellermannTyton also offer a wide range of other products that are used in cable securing applications such as; Lacing Twine, LOH Lacing, Hellermann Clips, PVC Electrical Insulation Tape, Slotted and Solid Trunking, Cable Glands, Utility Junction Boxes as well as Nylon / PVC Glands.
Locking Technologies Used for Cable Ties
Cable Ties with Plastic Pawls

This technology is used in 90 % of all polyamide (PA) cable ties applied by HellermannTyton. In order to cover a variety of applications, there are different variants of this system, for example: releasable versions, in-line versions, open head versions.These are one-piece cable ties, that is the pawl is moulded as an integral part of the cable tie, thereby building in inherent strengths. Positive locking is achieved by engaging the pawl with the strap serrations.
Cable Ties KR Series

This cable tie is distinguished by its smooth strap and unique locking mechanism. With the KR cable tie series the chamfered head achieves an especially firm fit around the bundled material.

MBT Series of Cable Ties

Made of stainless steel grades 304 or 316, the MBT range of cable ties have no serrations on the strap and are threaded parallel through the head, gliding under a metal ball-bearing locking mechanism. The strap is locked into the head by means of the small ball-bearing.

More information on our cable ties can be found here.

Determination of Minimum Tensile Strength of Cable Ties
The minimum tensile strength is a critical selection criteria for cable ties. It expresses how much loading a cable tie can bear. This minimum tensile strength of a cable tie is determined in accordance with the Military Specification and Standards of the USA. Test conditions being laid down precisely in MIL-S-23190E:
Conditioning of the cable tie test pieces
Construction of the test apparatus
Application of the cable tie on a split test probe
Test speed
The Test Procedure to Determine Minimum Tensile Strength of a Cable Tie
The cable tie is fixed onto a split mandrel test probe with the
suitable cable tie application tool.

The mandrel is opened at a defined speed.

The loading at which the cable tie fails is determined.
Tool Testing - Determination of Tensions for Cable Ties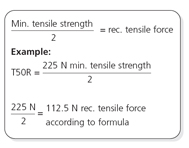 To date, no generally applicable test method has been established for this market. The companies within the HellermannTyton group work with a usual force meter with minimum 10.000 Hz frequency of data sampling to determine the tensile forces of the cable tie tools and to guarantee the quality of the cable tie processing tools. It is more difficult to test cable tie tools than would appear at first glance. It is of supreme importance to comply with a standardised test procedure and consistent test conditions. This means for example the size and not only the cross-section of the cable ties, but also the water content of the cable tie. A test using different cable ties and/or different conditioning can easily result in two different values.

In general, the speed of cut off, the position of the tool with respect to the cable tie, the condition of the wearing parts in the tool and the state of the cable tie play a fundamental role in the determination of tensile forces. Therefore we must point out that any values we provide can only ever be regarded as guide values for your information. The values cannot be transferred into practice like for like. In our user instructions, we specify an adjustment range for each type of cable tie. If tension values must be documented or comply with a specification, we recommend that you adjust them with the aid of a force meter. Also, as a guideline, half the minimum holding strength of the cable tie should be used as tensile force.

The minimum tensile strength (also referred to as minimum unlocking strength) is the least force which the cable tie can withstand before it tears or stretches.This strength is determined using a threaded cable tie, hence the following formula should be used for guidance as to the correct tensile force of the tool:
Optimum Storage Conditions for Cable Ties Made of Polyamide (PA)
About 90 % of cable ties from HellermannTyton are made from the thermoplastic synthetic material polyamide 66.
The polyamide PA66 has many properties which are highly advantageous for HellermannTyton cable ties and fixings, such as:
High strength, rigidity and hardness
High dimensional stability, even under the effect of heat
High abrasion resistance
Having a wide range of polyamides and additives allows for an optimum adaptation of the properties of the finished cable tie or fixing element to suit the respective requirements.
Extremely resistent cable ties can be made from high-quality polyamide 66. This synthetic material will mainly be processed during injection moulding, but can also be extruded.
Polyamide is a hygroscopic material. This means that the cable tie material absorbs and loses moisture. For optimum handling of cable ties it is important that the cable tie material is in a condition of equilibrium with a water content of approximately 2.5 %.
The packaging used by HellermannTyton ensures that the water content in the material of cable ties remains constant. Therefore, it is important to store the products in their original packaging to preserve the quality of cable ties.

Always store cable ties in the sealed plastic bag made of polyethylene! Once opened you should use the cable ties as quickly as possible!

Do not expose cable ties to direct sunlight! Do not store cable ties in sunlight; for example, on the windowsill!

Store cable ties away from direct sources of heat! Avoid contact with heat: for example, do not place on the radiators!

The ideal storage conditions for cable ties are those of the central European standard climate:
For optimum handling of cable ties it is important that the material is in acondition of equilibrium with a water content of approximately 2.5 %
User guide for cable ties with fixing elements
General Product Catalogue 2017/2018
Please click on the image to easily and quickly download your Catalogue in pdf format: