Cable protection conduits, sleeving and tubing for your application
You are always on the safe side with HellermannTyton Cable Protection: Perfect Cable Protection with Flexible Conduits, Braided Sleeving and Spiral Binding from HellermannTyton.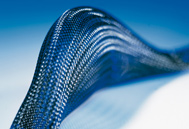 No cable can meet the demands posed today in terms of abrasion resistance, tensile strength and form consistency or impact resistance without having appropriate cable protection. Cable protection tubes (flexible conduits, braided sleeving, spiral binding) have to meet these demands and also provide protection against dirt and dampness or resistance against extreme temperature loads. HellermannTyton does not compromise when it comes to cable protection. Cable protection tubes, cable seals, cable protection grommets, flexible conduits, fittings and further cable protection accessories from HellermannTyton not only meet all current and normalised standards, the cable protection products from South Africa and the other world-wide sites exceed them and provide the best possible cable protection in the market today.

The varieties of cable protection products range from high-quality plastic and metal cable protection conduits through spiral binding, braided sleeving to re-sealable and therefore reusable protective tubing. From excellent flexibility, to high flame-retardant properties to exceptional mechanical protection, HellermannTyton guarantees the highest quality and safety in all cable protection areas. Wherever cable protection is needed, there are unique requirements. Whilst cable protection in plant and machinery construction requires high levels of mechanical impact resistance and abrasion resistance, a cable protection conduit or braided sleeving used in public buildings or in rolling-stock must meet the highest fire safety standards.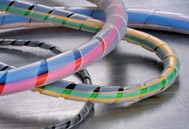 In addition to the outstanding material properties of the flexible cable protection conduits from HellermannTyton, customers and users of HellermannTyton cable protection products also benefit from system solutions. There are fittings, clips, locknuts, sealing washers and other accessories for every metallic or non-metallic cable protection conduit.

When it comes to the installation of cable protection colutions, from the design to the retro-fitting, for example with braided sleeving which can be re-opened or closed, cable protection solutions from HellermannTyton provide the protection you need.
Cable Protection Tailored to your Application

The requirements in the field of cable protection are becoming increasingly complex. Cable protection conduits need a lot of features to protect cable bundles optimally under diverse conditions, e. g.:
Flexibility
High resistance to corrosion
High resistance against to and UV radiation
Flame-resistant and self-extinguishing

HellermannTyton is a global manufacturer who offers high-performance cable fastening, connecting, routing, protecting, and identifying solutions to diverse markets. We develop market solutions that uniquely meet our customers' needs no matter what industry - solving an application requirement, saving installation and component costs, and improving the quality of the end product:
Cable Protection Conduits for Extreme Conditions
Helawrap Cable Protection System
Cable Protection Spiral Binding
Cable protection spiral binding is used to organise and protect cables and hoses. HellermannTyton spiral binding is available in a wide range of diameters, colours and materials.
Braided Sleeving and Fabric Tubing
Cable protection braided sleeving made from Polyamide 6.6 (PA66) and Polyester (PET, PBT), also combined with tin-platted copper for EMI-shielding, protects cables from abrasion. Helahook fabric cable protection tubing hook-and-loop seal can be retro-fitted and re-opened and closed repeatedly. The and self-closing cable protection sleeve Helagaine Twist-In is ideal abrasion protection even on pre-installed components.
Helawrap Flexible Cable Protection Conduits and Fittings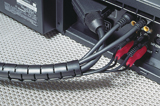 Helawrap is the ideal solution for bundling and protecting cables and wires in industrial as well as in home or office environments. Thanks to its special profile and handy applicator tool, Helawrap can be applied rapidly and effortlessly. The unique design allows the user to branch off cable at any point along the cover with ease. Helawrap can also be removed and re-applied as often as required.
Spiral Binding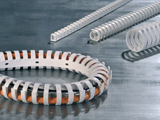 Spiral Binding is a general purpose solution for many bundling applications. It is used for organising and protecting cables and hoses. Spiral binding is available in a wide range of diameters, colours and materials. Flame retardant polyethylene (FRP), PA6 (N), PTFE (P) versions provide protection against fire, abrasion, chemical attack and elevated temperature - please refer to material data tables.
Cable Protection Braided Sleeving
Helagaine HEGPA66 Braided Sleeving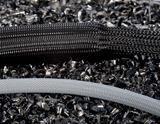 The thread diameter of the Polyamide 6.6 is approximately 10 % larger than that of Polyester. This results in tougher sleeving with excellent resistance to abration. Despite its toughness, Helagaine HEGPA66 can be easily applied even over very irregular shapes.
Polyester Expandable Sleeving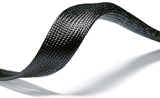 Polyester expandable sleeving is flame-retardant and halogen-free. It offers durable abrasion resistance in a wide range of industrial applications. The open weave construction allows for ease of use when bundling cables and hoses, even those with large or bulky connectors. Totally expanded, the sleeving can reach at least one and a half times its initial dimension.
Heat Shrinkable Braided Sleeving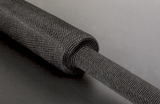 Heat shrinkable braided sleeving consists of polyester multifilament and special modified polyolefin filament, and shrinks when exposed to heat. The unique woven construction makes it extremely flexible and easy to wrap hoses with irregular shapes. This sleeving provides excellent abrasion resistance and noise reduction making it suitable to use in various environments.
HELAHOOK Re-Sealable Protective Sleeving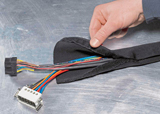 HELAHOOK is a lightweight, abrasion resistant and resealable protective sleeving. Due to its hook-and-loop sealing system, HELAHOOK can be used to protect cables and hoses that are already fixed. It adapts to very irregular shapes and sizes. It permits quick and easy access to enclosed components and can be used repeatedly. It is therefore a sensible alternative to braided sleeving and corrugated tubing for many common applications.
Cable Protection Tubes
PVC Tubing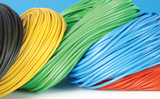 A thin wall section makes P sleeving ideal for minimising the overall diameter of loom assemblies. These high-grade PVC sleeves (P) have a thin wall that makes them ideal for insulating wire in areas where space is at a premium. They can be supplied as continuous tubing or cut lengths. The tubing is available in international resistor colour code, pink and transparent.
Convoluted Tubing - Medium Duty, High Impact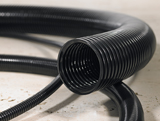 The tubing is supplied in light grey as standard. The flexibility, impact resistance and UV-stability of the material allows for a wide range of conduiting applications and also meets the construction industry requirements for conduits in concrete slabs, columns, beams and decks. Operating temperature range is -5 °C to 60 °C.
Convoluted Tubing - Light Duty, Medium Impact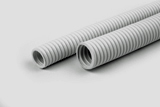 The tubing is manufactured from medium impact, flexible, UV stable PVC material affording a durable product meeting the requirements of the relevant sections of SABS IEC 60614-1:1994 – pliable conduits for electrical installations. The tubing is supplied in white as standard. The flexibility and UV-stability of the material allows for a wide range of conduiting applications.
Convoluted Tubing - Automotive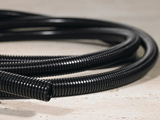 The tubing is manufactured from a grade of Polypropelene that contains no heavy metals (lead) and is halogen-free. This ensures a high quality, very flexible, environmentally acceptable product that meets the stringent requirements of sheathing for automotive wiring harnesses. The tubing is available in slit or un-slit form. Standard colour is black, but is available on request in mid-grey, white and orange. Operating temp. range is -40 °C to +150 °C continuously rated.
Flexible Metal Conduit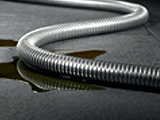 Used with a variety of set-screws. Offers good mechanical protection to wiring in a variety of applications.
External Hinged Pieces
External Hinged T Pieces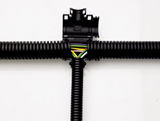 Suitable for use with all types of HellermannTyton convoluted tubing, these fittings are designed to fit externally and lock together to provide protection to a harness junction. Available in numerous size combinations, the range can be made more versatile by the use of a reducer to accommodate smaller conduit sizes.
External Hinged Y Pieces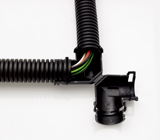 Suitable for use with all types of HellermannTyton convoluted tubing, these fittings are designed to fit externally and lock together to provide protection to a 'Y' junction on a harness. Available in numerous size combinations, the range can be made more versatile by the use of a reducer to accommodate smaller conduit sizes.
SEM Fast Straight Fitting
The unique design of the SEM Fast range of fittings enables a conduit to be terminated with a threaded adaptor in two easy actions. Simply twist the conduit slightly as it is inserted to the end of the fitting and snap the locking wings into position to secure the fitting to the conduit, providing a weather proof seal to IP65. For applications that require an IP67 seal, the recommended 'O' ring should be used over the last corrugation of the tube before it is located into the fitting. These are available as a separate item from the table below. These parts can be used with normal profile & UFW profile un-slit conduits. It is important the conduit is cut squarely, preferably on top of a crest, to achieve the correct IP rating.
Lock Nuts & Sealing Washers
Lock Nuts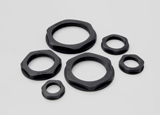 A range of PA6 (nylon) locknuts which incorporate a sealing flange and are used to secure a threaded fitting in an enclosure or bulk head application.
Sealing Washers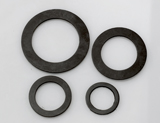 A range of sealing face washers which can be used with any threaded fitting to provide additional sealing capability. Used on applications where the fitting is terminated in either an enclosure or threaded entry.