Heat Shrink Tubing and Heat Shrink Moulded Shapes for your Applications
The perfect Cable Protection System every time you use heat shrink tubing from HellermannTyton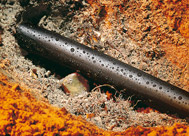 You are looking for the heat shrink tubing meeting your application requirements best?
Areas where heat shrink tubing is used vary greatly. This is why HellermannTyton focuses on matching all of its heat shrink tubing optimally in the jobs for which it will be used in developing, manufacturing and distributing its heat shrink tubing and heat shrink moulded shapes.
This means HellermannTyton sets the pace with each new piece of heat shrink tubing when it comes to providing protection against mechanical, environmental, chemical or electrical effects.
The key factors to which we owe our success are the unique and quite specific properties of our heat shrink tubing. Starting with the choice of material, for example, the different requirement demands raised by being used in the sensitive aerospace industry or rail transportation sector are focused on the self-extinguishing fire protection properties of heat shrink tubing.
According to the requirements set, the shrink ratio, that is to say the precise size to which heat shrink tubing is capable of shrinking, can be just as important in this process as dispensing with halogeneous materials in the manufacturing of heat shrink tubing.
What is heat shrink tubing?
Heat shrinking means: The process of applying heat, for example using an electric or gas heat gun, to shrink expanded plastic tubing or shapes down to its original size. A distinction is made in this respect between recovered dimension(original size) and supplied dimension (expanded size). Heat shrinking is used in various industries and applications – for instance to insulate and protect cables against heat, chemicals or water.
Watch this video with our heat shrink experts Barry and Mark to see how easy heat shrink tubing is to handle.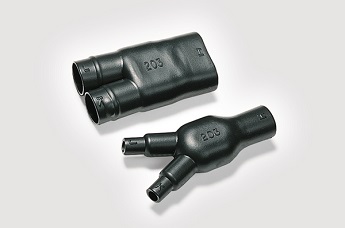 Every single piece of heat shrink tubing has to match its specific area of work to the highest degree of accuracy – from batch production, for example as the insulating handles of tools, to heat shrink tubing sleeves for maintaining underground cables which have already been laid and which would be extremely expensive to repair in terms of resources and costs without using corresponding specialised heat shrink tubing (heat shrink cable repair sleeves).

From adhesive lined heat shrink tubing to transparent heat shrink tubing which allows the identifying elements to remain visible on cables to be insulated, HellermannTyton offers a comprehensive range of heat shrink tubing products that meets the highest international standards.
HellermannTyton provides workers and decision-makers involved in manufacturing with a solution fit to their specific needs, which is tailor-made for their specialist area or, in other words, every piece of HellermannTyton heat shrink tubing makes problems shrink, even before they arise.
Heat shrink tubing fitting your requirement best!

Heat shrink tubing is extruded plastic tube that is expanded and will shrink back to its extruded size when heated. Heat shrink is used to electrically insulate cables and wires offering also mechanical and chemical protection.

HellermannTyton is a global manufacturer who offers high performance fastening, connecting, routing, protecting, and identifying solutions to diverse markets. For our customers we develop market solutions that uniquely meet industry needs - solving an application requirement, saving installation and component costs, and improving the quality of the end product - no matter what your industry:
Heat shrink tubing
Heat Shrink Tubing for electrical insulation and mechanical protection. Thin Wall Tubing, Medium and Thick Wall tubing, without (single wall) or with adhesive liner (dual wall). Heat Shrink Tubing made of Polyolefin (POX), Elastomer (PES), Fluoropolymer (FPM), Polyvinylidenefluoride(PVDF) and Polytetrafluorethylene (PTFE). Available in various shrink ratios from 2:1 up to 6:1 for different applications.
Heat shrink moulded shapes
Heat Shrink Moulded Shapes, End Caps and Breakouts, unlined and adhesive lined, 2-way up to 6-way Outlet Shapes, 90°and 45° angle boots, Transitions, Y-outlets, VG-style shapes. End Caps and Breakouts for low voltage applications, two component epoxy adhesive and hot melt adhesive tape.
Non shrinkable tubing
Insulation tubing and sleeving, made from Chloroprene (CR), Polyvinylchloride (PVC), Polyolefin (PO), Polytetrafluoroethylene (PTFE) or Silicone (SI) as well as Hellerine lubricating oil for rubber and plastic sleeves.
With the wide range of high-quality heat shrink products in different materials, colours, sizes, wall-thicknesses and shrink ratios HellermannTyton offers the right product for every application
Heat Shrink Joint Kits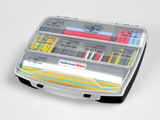 The HellermannTyton Heat Shrink Joint Kits are quick and easy to install offering excellent impact and abrasion resistance. With high electrical insulation properties our Heat Shrink Kits also offer excellent environmental and UV properties.
TCN20 Self Extinguishing Heat Shrinkable Tubing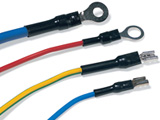 TCN20 is a general purpose, flame retardant polyolefin tubing with good resistance to common fluids and solvents. This flexible, 2:1 shrink ratio tubing has an excellent physical and electrical performance. The low shrink temperature and good mechanical strength means this tubing is widely used in the electrical, electronics and automotive industries.
Heat Shrink Moulded Shapes Helashrink Series 100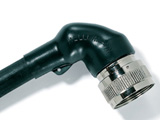 Straigt plug-and-socket connector terminal casing. This style is used in conjunction with circular grooved adaptor, providing protection against environmental stresses. The inside lip has been designed to provide extra reinforced stress relief. Special fitting 199-4-G for audio plugs has external ribs for an improved grip.
HEK Cable End Caps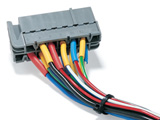 End caps are used to seal cables during storage or transportation. HEK end caps can be used as an insulating cap for LV cables (0.6/1kV), and the cap is marked with a lightning flash to indicate a live circuit. The adhesive lining provides an excellent environmental seal.
HEV Cable Breakout Boots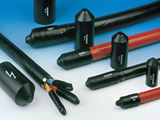 Cable breakout boots are designed for insulating and sealing a cable crotch, or conduit system, and provide excellent resistance to abrasion and weathering.
SGP Grade Flame-retardent Polyolefin General Purpose Heat Shrink Tubing
SGP General purpose heat shrink tubing is a cost effective product for numerous commercial insulation applications. It provides effective electrical insulation and protection for in-line components, disconnect terminals and splices. It also bundles wires and cables for very flexible lightduty harnesses, use as strain-relieves for electrical wire connections and colour-codes wires, cables, terminals and components.
Electronic Hot Air Guns
Powerful, electronically controlled hot air guns with temperature control and cool air stage for dedicated DIY enthusiasts and frequent users. HellermannTyton offers the HL1610S, HL1910E and HG2000E Hot Air Gun.
Selection tools
Wall thickness of heat shrink tubing:
The material thickness will be indicated in mm after complete shrinkage. "Nominal" defines dimensions without any tolerances.
Generally you can distinguish between thin wall, medium wall and thick wall heat shrink tubing.
Heat shrink tubings are also available with adhesive liner. They are also called dual tubing.

Diameter of heat shrink tubing:
For thin wall tubing with a shrink ratio of 2:1 (standard tubing) the diameter is usually in inch sizes 25.4 mm equals 1 inch.

Shrink ratio:
Depending on the used compound material and wall thickness heat shrink tubing can be extruded to a different degree.
The shrink ratio indicates the rate, the product shrinks (supplied diameter in relation to recovered diameter). The shrink ratio varies from 2:1 to 6:1. The higher the shrink ratio, the more varying diameters of the object can be covered. Thus, fewer sizes of heat shrink tubings are needed. This helps to reduce stock and so requires less space.

Longitudinal change after shrinkage:
Heat shrink tubings do not shrink only in diameter, but generally also in length. This change in length after shrinking is indicated in a percentage

Minimum shrinkage temperature:
Heat shrink tubings do not all shrink at the same temperature. It strongly depends on the type of compound they are made of and their wall thickness.

Operating Temperature:
The operating temperature varies per tubing type. This is dependent of the compound used for the tubing type

When selecting the correct heat shrink tubing size, it is recommended to follow the 80:20 rule.
Heat shrink tubing should shrink by at least 20% and not more than 80% of the supplied diameter to achieve the optimal result.

In our application overview for heat shrink tubings you will find the recommended heat shrink tubing size for every cable diameter.
The 80:20 rule has of course been taken into account.

Heat shrink tubings are used for cable harness assembly in general. The application of heat shrink tubings covers insulation, cable identification and, besides esthetical reasons, mechanical protection as well.
Find the right heat shrink tubing even quicker: The practical heat shrink tubing selection guide.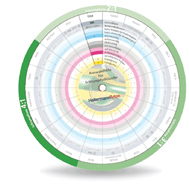 With the comprehensive range of heat shrink products it can sometimes be difficult to choose the product that best fits your needs.
Therefore HellermannTyton has designed a very practical selection disc for our heat shrink tubing which takes you straight to the product you are looking for. Order your heat shrink tubing selection guide today and convince yourself!

The selection disc shows the important properties of our tubing at a glance and quickly finds the right solution for your specific requirements.
The heat shrink tubing selection disc gives you the overview you need and helps you navigate through our wide variety of products.
The symbols indicate which heat shrink tubing has the properties you are seeking.
The colour coding helps you focus on the relevant properties.
The reverse side of the heat shrink tubing selection disc gives you an overview of the different heat shrink tubing sizes and guides
you in selecting the correct heat shrink tubing size.
Useful tools for selecting the right heat shrink tubing
Heat shrink tubing size calculator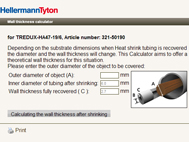 shows the appropriate size of heat shrink tubing for your special application.
Simply enter your data and the calculator presents the fitting sizes according to the 80:20 rule.

Hint: The heat shrink calculator also checks, whether the chosen heat shrink tubing really fits your application. Among others heat shrink tubing can be selected by using the product search on our website. Please click HERE to use the calculator.

Wall thickness calculator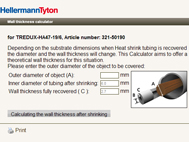 If a heat shrink tubing is being shrunk the diameter as well as the wall-thickness will change. This calculator indicates the theoretical wall thickness for a given diameter. Please click HERE to use the calculator.
Frequently Asked Questions
What are the best tips for using heat shrink tubings?
Note 1: For shrinking tubing it is advisable to start the shrinking process in the middle section of the tubing and then gradually proceed to one end and then from the middle again to the opposite end. Thus avoiding air becoming trapped under the tubing.

Note 2: Heat shrink tubing will also shrink longitudinally. This has to be considered when cutting the tubing.

Note 3: It is possible to minimise the longitudinal shrink by shrinking the ends first and then the middle section.
However avoid air gets trapped and prevents the middle section from shrinking.
Alternatively the tubing should be shrunk down by starting at one, the most critical, end and shrinking down slowly towards the other end.

Note 4: If the object to be covered is metal or heat conductive care must be taken to ensure the object is pre-heated to avoid "cold spots" or "chill marks" so to ensure a tight and smooth fitting of the tubing.

Note 5: When cutting heat shrink tubing and wrap around sleeves to the desired length special care has to be taken to ensure smoothly cut ends. Poorly cut and irregular edges can cause heat shrink tubing and sleeves to split during shrinkage.

Note 6: When choosing the tubing size it is important to consider the 80 % / 20 % rule. This means the tubing size should be chosen to allow minimum shrinkage of 20 % and a maximum of 80 %. Discover a complete application overview in our product catalogue.

Note 7: During shrinking you should always make sure that the workplace is well ventilated.
What is adhesive lined tubing?
Adhesive-lined tubing is also known as dual-wall tubing. Because here you have a combination of a crosslinked outer jacket (Polyolefin) and an inner layer of adhesive. When heated, the inner adhesive wall melts and flows. This process creates an adhesion layer that ensures a tight fit to the wire, cable or connector. Adhesive-lined heat shrink tubing is ideal for producing strong, weather tight seals with extra mechanical strength and excellent protection against corrosion.
Watch this video to see dual-wall heat shrink tubing demonstrated by our experts Barry and Mark.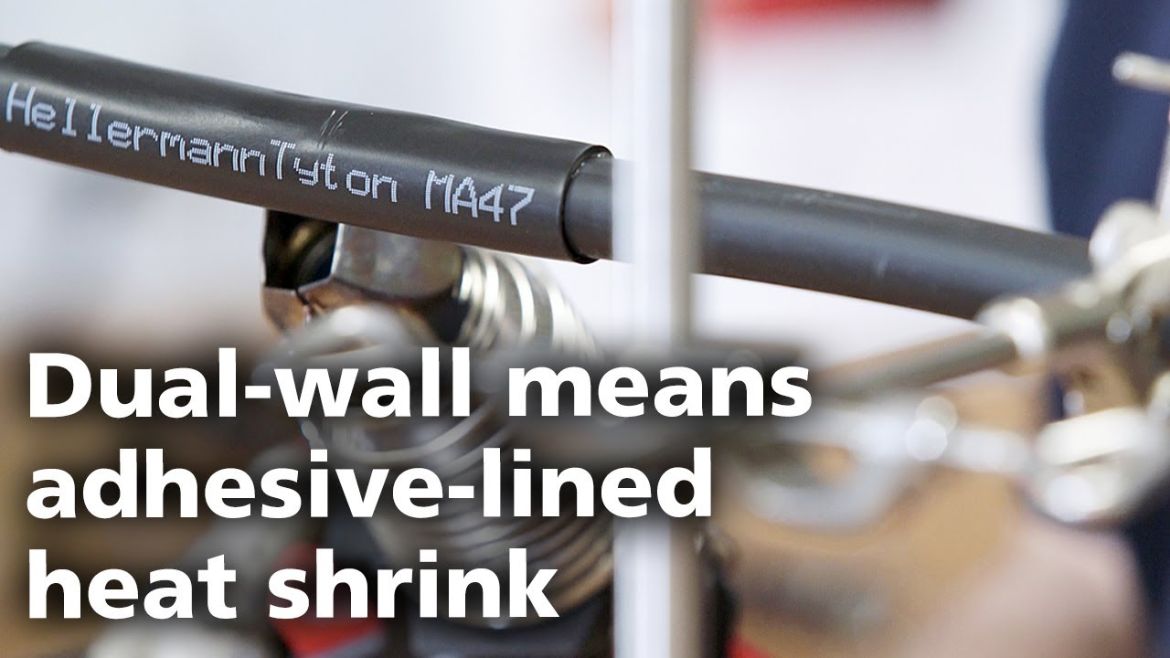 Why clear/transparent heat shrink tubing?
Many cables are colour coded or have identification marks printed on them – for example in public buildings like airports and hospitals but also in tunnels and means of transport like rail vehicles, ships and planes. Transparent heat shrink tubing is often used to insulate cable jackets whilst keeping identifying marks visible. This is known in the trade as oversleeving.
Learn more about clear/transparent heat shrink tubing in this video with our experts Barry and Mark.