High Voltage Testers : TPC22K
TPC-Series
Article number: 911-00092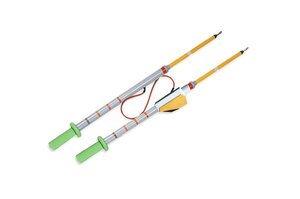 Features
Designed to IEC61481:2001
No user assembled parts
Dual colour coded scale (Percent, Vac)
Neon indicator lit when more 1200 Vac
Measure and test phase to earth and phasing
High quality fibreglass wound rod
Self powered operation - no battery
Current is limited to Milliampere
Grounded or ungrounded systems
Lightweight, robust and compact
High immunity to interference fields
Robust carry case
Application
Toptronic High Voltage Phase Comparators are available in five models for applications up to 44 kV. The TPC Series of Phase Comparators utilises a long established technique to detect and measure High Voltages and perform phasing tests. These dual pole high voltage phase comparators incorporate modern, high quality glass fibre front end and composite polyurethane main body mouldings to give tough and very light weight construction with superior safety features. They have an analogue scale with neon indication above 1.2 kV. These are IEC61481:2001 compliant and are housed in a high quality carry case with shock absorbing foam.
The TPC Series is self powered, requires no dismantling or assembly thus eliminating the risks of assembly mistakes and accidents.

The indicator has also been screened to have high immunity to interference fields. Important applications include checking voltage fuses, testing for correct phase connections and for absence of high voltage on de-energised lines or apparatus. The Dual scale reads direct (no multiplier) in kVac or in % of full scale and is colour coded (Green = in phase, Red = out of phase). A bright neon is included on the scale for easy
visibility indoors and it has a dual purpose; 1. Acting as a voltage detector (lit when the voltage across the poles is higher than 1200 Vac). 2. In case of unlikely failure of the analogue scale indicator, the neon will warn the user when voltage is present.

Checking Phase Relationships
When checking phase relationships current from and to the phases under test are displayed on the analogue meter. If the phases are in phase, the neon will not light and the meter pointer will stay in the green band. For out-of-phase conditions the neon will light and the meter pointer will move into the red band. Before and after using a phase comparator and associated equipment, a functional test should be performed on the phase comparator.
| | |
| --- | --- |
| PART DESCRIPTION | TPC22K |
| Part No. | TPC22K |
| Product Family | TPC-Series |
| Product Group | High Voltage Testers |
| | |
| --- | --- |
| GTIN-13 / EAN | 6005242007521 |