Case Study: Warburtons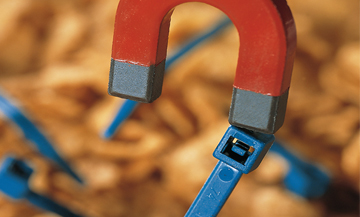 The Problem
Family baker, Warburtons, is one of the UK's leading grocery brands. Most famous for its wax wrapped Toastie loaf – Britain's best selling loaf – the Company has a wide range of products, including white and wholemeal loaves and rolls, and bakery snacks such as crumpets, teacakes and fruit loaves.

As part of the manufacturing process, the Company uses cable ties on plant and machinery at each of its 13 bakeries across the UK.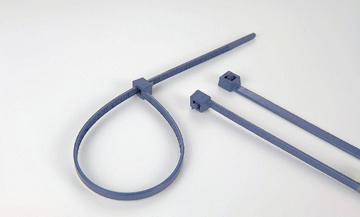 In food manufacture situations, it is important that all equipment and accessories used can be easily located in the event of anything finding its way into the preparation area.
Such items are subject to the HACCP (Hazard Analysis of Critical Control Points) directive, which demands that effective food safety systems are established through the application of systematic approaches to hazard and risk analysis. Roy Abbott, engineering manager for Warburtons, explains: "Food safety is of paramount importance to Warburtons and therefore it is vital that all accessories used have the ability to be detected.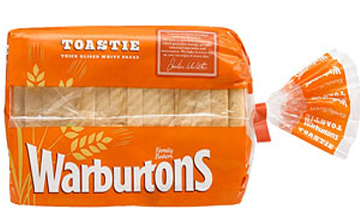 The Solution
HellermannTyton's metal content ties can be used to meet the obligations of the HACCP directive. Distributor BST Detectable Products, based in Doncaster, South Yorkshire, is one the companies specifying detectable equipment at Warburtons Bellshill and Stockton bakeries.

Roy Abbott continued: "As all our products come off the production line they are scanned and knowing that we're using metal content ties, we can be confident that if there is anything in there that shouldn't be, it will be picked up immediately.

"HellermannTyton is one of the few UK suppliers of quality metal content ties that meet our needs and we use literally thousands of them each year across our regional bakeries."
The HellermannTyton metal content tie range features the flagship MCT50L, which is 390mm long and 4.6mm wide and following the success of this product, our research and development team designed the new MCT30R (150mm x 3.5mm) and MCT50R (200mm x 4.6mm).
These ties were launched in 2007 to provide further cable management solutions for applications in and around the manufacturing process for food and pharmaceuticals and can be used in temperatures ranging from -40oC to 85oC.

In Brief
• HellermannTyton's metal content cable tie range is used in all Warburtons bakeries across the UK
• The metal content tie range is suitable for all food manufacture situations and meets the requirements of the HACCP (Hazard Analysis of Critical Control Points) directive
• Also ideal for use in any type of process application where contamination could be an issue, such as pharmaceuticals, cosmetics, skin care and beauty products
• High visibility blue colour with metal pigment running throughout ensures quick and easy detection, even with small sections of the tie
• The range can be used in temperatures ranging from -40oC to 85oC